A post has been shared on social media about the misery a young Nigerian lady is going through at the moment in her sweetheart's church.
The young lady mistakenly transferred a lot of money which was more than she bargained for her tithing, and the receiving church has refused to repay her the excess despite her plea.
The woman said: "I wanted to pay my tithe of ₦40,000 and I mistakenly sent ₦400,000 to the church account. (My boyfriend's church that I recently started attending)."
See the post of what she said:
I called my boyfriend immediately and he said we will talk about it. When we saw later I told him and he said I should go to the church and talk to junior pastor. When I got to the church, the pastor started telling me that it is Gods doing that 400k entered and I should leave the money with them that I will get blessings. I said I needed the money to my shop rent and equipment, they gave me bad eye. I told my boyfriend, and he said I should be patient. He was already angry that i insulted the church. I called my bank, they said the church has to refund it that they can't do it. Even my boyfriend's mother and sister was not so nice to me when she saw me. They make me feel like i stole or i'm a thief. I am confused, this is my money, I have bills to pay. Business has been slow this year. I love my boyfriend. It is a 2 year relationship which may lead to marriage. This may be the end of our relationship. I don't have much money, I can't give 400k i did not plan.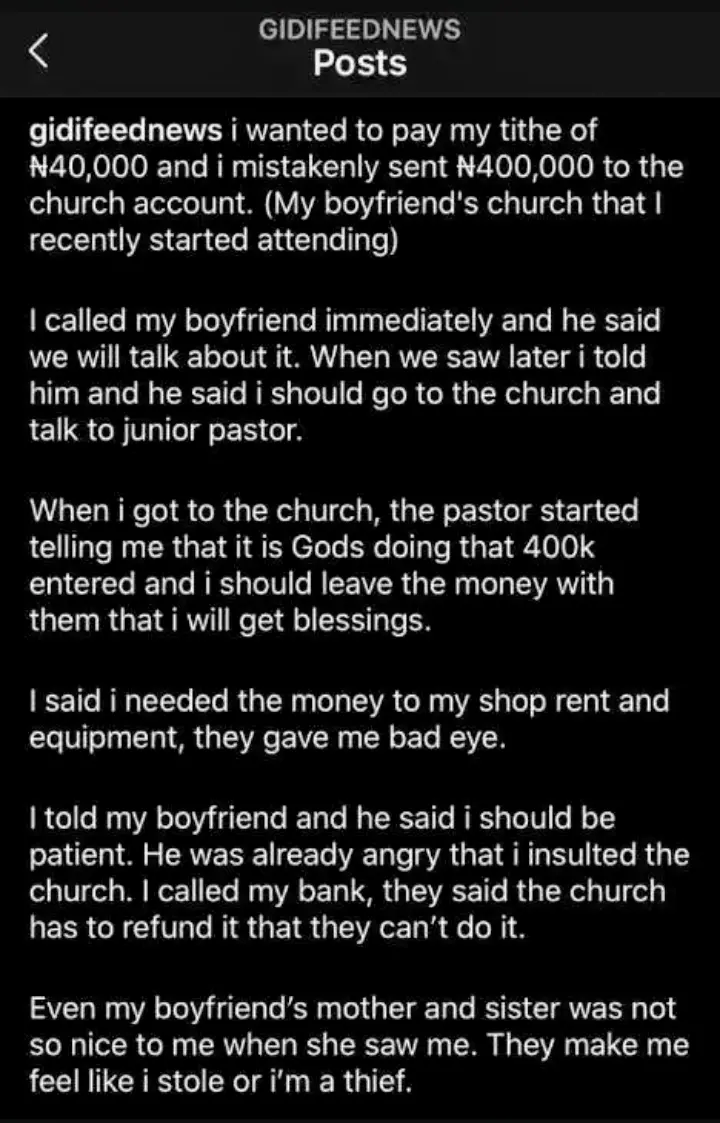 What do you think should be done, I mean if you were in this situation?